The SpecPhone: A 3D-Printed Smartphone Spectrophotometer for Research and Education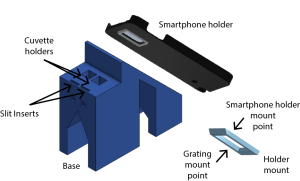 Visible absorption spectroscopy has a wide range of applications in chemistry labs, biomedical research, and clinical diagnostics. Our lab has developed the SpecPhone: a spectrophotometer that can be made with a 3D printer, some inexpensive parts, and a smartphone. The device can make analytically accurate measurements of concentration and can be used for education and DIY scientists.
More Recently we have upgraded the design to with a universal smartphone mount and dual beam optical geometry. We call this new version the DualSpec.
Tutorial on visible absorption spectroscopy
Bogucki, R., M. Greggila, P. Mallory, J. Feng, K. Siman, B. Khakipoor, H. King and Smith, A. W.; A 3D-Printable Dual Beam Spectrophotometer with Multiplatform Smartphone Adaptor. J. Chem. Edu. (2019) 96, 1527-1531.
Grasse, E. K., Torcasio, M. H., Smith, A. W.; Teaching UV–Vis Spectroscopy with a 3D-Printable Smartphone Spectrophotometer. J. Chem. Edu. (2016) 93, 146-151.